Why List Your Home With McGrew?
Enjoy the Benefits of a True Team Effort
Prospective agents at McGrew Real Estate are selected based on several criteria. At the top of the list is their willingness to work as a team. We pride ourselves on having an atmosphere where our group will work together to sell your home.
Increase Your Exposure to Buyers Worldwide
When you list with us, you get the power of our local presence AND the benefit of the Leading Real Estate Companies of the World® worldwide network of premier brokerage firms and their 600 top websites. Collectively, our 600 affiliates generate over 150 million unique visitors annually, all of which have access to your listing the minute it appears on our website. Through our powerful common website, RELOHomeSearch.com, we give our mutual Web visitors access to 2 million listings in 30+ countries. LeadingRE's 600 sites attract over 300 million visitors annually, with over 150 million unique visitors and over 5 billion page views.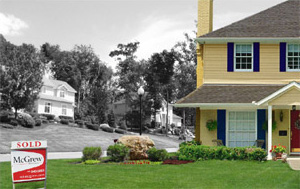 Attract More Buyers through the Internet
McGrew Real Estate actively participates as the internet medium grows to be the largest source of leads on individual homes. When you list your home with McGrew, your home will be advertised on realtor.com, the nation's number one real estate web site with over 153 million "hits" per month. Through our affiliation with Realtor.com, and through our "Realtor.com Enhanced" membership, our listings are all categorized as "Featured Properties" (setting them apart from the rest), and are linked to over sixty additional websites. Additionally, through our association with ListHub, your home will be marketed 30 additional top real estate websites including (but not limited to) Yahoo, Google, FrontDoor.com and OpenHouse.com. Of course, your home will also be placed on McGrew Real Estate's own website at www.AskMcGrew.com and on the Leading Real Estate companies of The World® website, www.RELOhomesearch.com. 
Maximum Local Exposure
If another agency has the Buyer for your home, that is fine by us. The important thing is that we get the results you want; no games or self dealing. With your permission, we will place your home on the Lawrence Multiple Listing Service (MLS) making it available through the MLS and the internet to every participating member in our area.
Guarantee Your Buyer's Home
There is a good chance that the Buyer for your home may also have a home to sell. (Over 50% of all buyers have a home to sell first). We may be able to guarantee the sale of their home so that they may close on yours. Many closings have been facilitated by the McGrew Real Estate Guaranteed Sold Program.
The McGrew Marketing Difference
The days of a Realtor being simply the "gatekeeper" of information are over. Today, your agent must add knowledge and expertise to the real estate transaction. McGrew Real Estate agents have received extensive training from local, state and national instructors. These classes include, but are not limited to, home staging; pricing and marketing; working with corporate buyers; helping sellers to prepare and repair; and tips for a smooth closing. In addition, all of our agents go through a com­prehensive in-house training program before they are allowed to begin conducting business. We expect our agents to be knowledgeable and professional. That's why we invest in them up front.